Impact at a glance
Defined and arranged a set of flexible working guidelines that satisfied the needs of their people, their teams and their business
Achieved visibility into needs at each level, from leadership down
Secured buy-in from leadership and the broader team
Getting to know Datacom
Datacom is Australasia's largest homegrown tech company. Founded in New Zealand as a family business, it has grown to approximately 6,500 employees across Australasia and Southeast Asia, remaining privately owned.
Datacom aspires to foster a more cohesive, collaborative, and customer centric working environment that would help them meet the emerging needs of their customers, whilst still protecting what made them special.
Their need
For many across Datacom, it was unclear if the balance between what people want, what customers require, and what the Datacom Group requires to run efficiently and effectively overall was correct. As a business, it was acknowledged that COVID had undoubtedly played a part in low office attendance, but anecdotally leaders knew that coming into the office is a lesser priority for many.
As a result, Datacom was concerned about potential longer term impacts to internal engagement, customer interactions and also the associated costs with running empty properties.
Their goals
To determine who can work from home, and depending on the nature of teams, how much time they'd need to be in the office
To determine how offices and office equipment can be used more efficiently if they were to transition to a hybrid work model
The approach
Q5 and Beamible were engaged to assist in establishing a phase one plan to address these key issues, particularly through the introduction of flexible work guidelines. For Datacom, the challenge in addressing flexibility stemmed largely from needing to find an approach that worked against role variability.
In other words, not everyone did the same kind of work and individuals would need an approach that worked for their specific needs and tasks. Thus, it was necessary to address the issues at a team level rather than as a group wide policy in order to provide clarity.
This is the approach.
Understanding context
Datacom needed to first and foremost gain an understanding of the unique context of each group and the nature of work that was carried out within them.
This involved gaining insight from both managers and their teams using Beamible. Collating that data and analysing it within the Beamible platform helped determine the number of optimal days recommended for each team to achieve a high level of productivity (their ability to meet specific individual needs and overarching group objectives.)
Accounting for the intangibles
It's important to note that this process alone does not consider nuances such as role dynamics, individual needs, and other intrinsic factors which are only truly understood within the team. To achieve a greater fit, managers are encouraged to take this guide and use it as a reference in their internal discussions when deciding what working patterns will work for them as a team, from both a group and individual perspective. It's not designed to be a directive or hard-and-fast rule.
Designing work profiles
Work profiles were designed around the work each team was responsible for and what they believed was suitable for them. This segmentation approach, based on similar working styles, made it easier to provide managers with a simple way to understand the guidance provided for teams like theirs.
Considering external variables
The final and perhaps most unpredictable variable Datacom needed to understand was how customer needs and group dynamics may impact the ability of teams to complete their duties in locations beyond the traditional office setting i.e. location flexibility.
This meant specifically looking into factors such as culture and engagement, management of individual circumstances and team interactions to determine the extent to which each team can reasonably adopt location flexibility.
These factors are managed on a team-by-team basis, and were excluded from the work profiles that were developed.
The process
Tactically speaking, the following process is how Q5 and Beamible achieved results for Datacom:
1. Customer survey
A customer survey was launched to gather insights around how customer requirements may affect where teams can complete their work.
2. Spoke to leaders across the business
Across 53 meetings, Q5 were able to identify what tasks and activities teams spend their time doing using the Beamible platform. The implications of where that work can take place was mapped out to assist in defining what flexible working meant for each team.
3. Designed and tested work profiles
Meetings with leaders, customer survey data and insights from Beamible informed the design of flexible work team profiles. These were based on key patterns in the data and assumptions from conversations.
4. Validation workshops
Initial work profile assumptions were tested and validated through a series of workshops with a range of Datacom stakeholders. There were also discussions about other factors which impact the success of flexibility at Datacom for each profile.
5. Refined work profiles and designed flexible work guide + resources
Resources were developed to complement the existing flexible work resources at Datacom, which clearly set out expectations around new ways of working for Datacom and how these came about.
The findings
Here are the findings from the Q5 team in partnership with Beamible based on conversations with leaders across Datacom. 6 work profiles were developed based on the different location flexibility patterns that were observed across the organisation.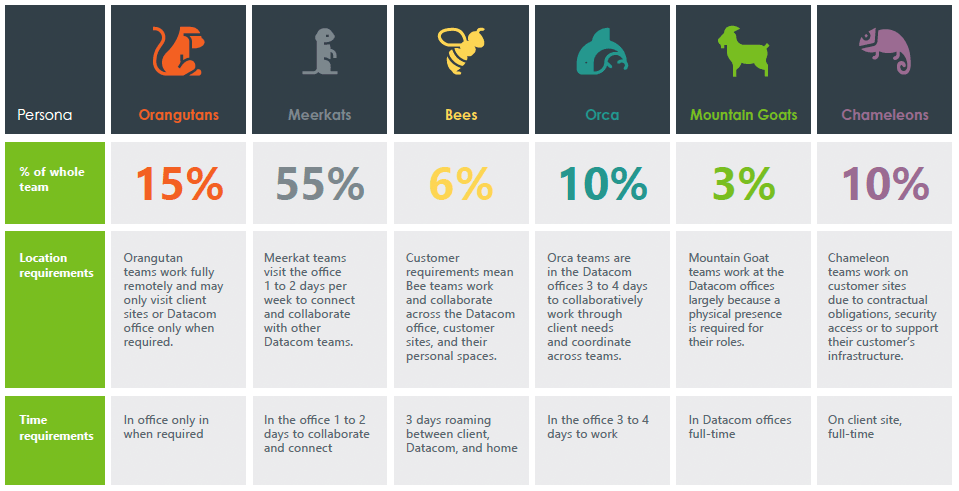 Noteworthy takeaways
The challenges of managing remote work
Some managers feel that they do not have the capabilities and support to manage remote teams in an effective way. While there is a need to upskill managers, part of this involves re-thinking our view of culture and how work is architected (the operating model). For example, remote work changes the communication flows and practices in a team, and this requires a deliberate design and thought into skills required for these changes.
Reduced property utilisation
Office utilisation has been at an all time low. Employee surveys indicate a willingness to return but this hasn't translated to teams making the commute. This is further compounded by the fact that the use of the office is changing. The challenge is how to effectively forecast how much space is required and match that against lease obligations and options in both major cities and regional areas. Beamible can play a key role in making that call.
The dilemma to mandate flex policies or seek input from employees
Each organisation requires a different approach to developing flexible work group level policies. Asking teams to decide, or even individuals (referred to as 'hyper-personalisation'), is a complex undertaking. On the flip side, some have trialled mandating time in the office only to find employees disgruntled and unhappy about the loss of their autonomy. Choosing your approach to determining flexible working arrangements will depend on your business context and include factors such as the organisation's culture, performance, nature of work, homogeneity of the business and geographic spread.
About Beamible
Beamible is a cloud-based platform that helps individuals, teams, and organisations design, prioritise, and optimise roles.
Beamible has designed an interactive platform that helps collate insights and analyse them to provide a better understanding of how roles can be best optimised using a flexible working approach.
Using the platform, Q5 was able to capture insights through interviewing different employees to understand the nature of their work. The process of grouping employees with similar needs and expectations was intuitive and simple with the help of Beamible.
About Q5
Q5 is a global organisation transformation consultancy that builds organisational health for the working world; from emergency support through to the development of peak performance. They work in three tightly linked domains to help organisations transform:
• Strategy (setting the right direction)
• Design (creating operating models to deliver the strategy)
• People & Change (developing people and putting the elements in place to make the change work).
What sets them apart though is not 'what' they do but 'how' they do it. Q5 takes a partnership approach to their engagements, helping clients to come together to create tailored and holistic solutions that works for their business and context. Their working style is highly collaborative, which in practice means enabling leaders through a structured approach and transformational expertise so that they can define, design, and enable their vision.