The post-Covid migration back into offices didn't occur as expected. Shifting employee priorities and a rising wave of attrition meant many companies indefinitely extended their WFH policies.
As remote and hybrid work setups become increasingly entrenched in the Future of Work, organisations are beginning to explore ways of streamlining these processes. But managers in hybrid organisations who have never remotely managed employees before can find themselves unprepared to deal with the unique challenges.
The Beamible team are flexible work design specialists. We've learned a thing or two about modern work by helping companies like Mcdonald's, Google, and Aurecon embrace flexible work at scale.
To help your managers succeed in the 'new normal', here are four easy and actionable tips from us to you.
Give them visibility
One of the greatest challenges leaders face in remote and hybrid work models is visibility.
What are people working on? Is it the right thing? Are they engaged and do they enjoy their work? What do they need? Are they drowning?
While managers want and need to know what's happening across their teams, increased visibility also engenders trust as an added bonus (and a big one that we'll touch on soon).
Luckily, technology is a remote manager's best friend. As HR leaders, you have the ability to give your managers meaningful visibility into the nature of the work that's being done, and a window into opportunities for optimisation. With the help of our dedicated platform, Beamible (it's actually a world-first but we won't blow our own trumpet) your managers can see things like:
Understanding if team members are dedicating the right amount of time and effort to each part of their role
Ensuring employees' work is aligned with the team and organisational goals
Gauging team members' sentiments towards each part of their roles, then adjusting as needed
Flagging opportunities for skill optimisation
Identifying opportunities to distribute work capacity more strategically so that people have sustainable workloads, and have the most relevant skills for the task at hand
And many more!
There are also more widely known platforms suited to tracking processes and projects such as Trello, Monday, or Asana which complement Beamible nicely, and provide an extra dimension of visibility.
With the help of these platforms, your people in charge can see much more than they even could before hybrid and remote work were on the agenda.
Move toward a culture of trust
A recent Gallup poll showed that 53% of employees expect a hybrid work arrangement while 24% expect to work fully remotely. That's at least 77% of respondents looking for flexible work.
And we know from our research that a successful flexible working arrangement requires a level of autonomy. According to a study on Flexible working practices and job-related anxiety, "employees who feel that their employers trust them are more likely to have a positive attribution of key organisational provisions, such as FWPs [flexible working practices], along with an increased tendency to interpret such initiatives favourably and exhibiting more trust in their management's intentions."
That was a mouthful, but what it's saying is that flex success depends on trust.
Furthermore, a study by Interaction Associates shows that high-trust companies 'are more than 2 ½ times more likely to be high performing revenue organisations' than low-trust companies.
Are you sold yet?
There are things you can do that either create or undermine it. For example of the latter, some organisations are opting for remote monitoring software (aka bossware) and employees don't like it at all.
In an interview by tech.co, an employee said "I think EM software is intrusive and can cause problems within a workplace and make employees disengaged and unhappy", suggesting that implementing it "tells employees that their employer doesn't trust them and needs to micromanage their every move".
We tend to agree and have found this to be a widespread sentiment. It sends a message that's clear as day: that you don't trust your people.
Then there's the point of productivity, as this is cited as the most common use for using a monitoring system. The problem is, monitoring software doesn't really measure performance. It just ensures that team members are physically on their computers, not that they're being productive or effective.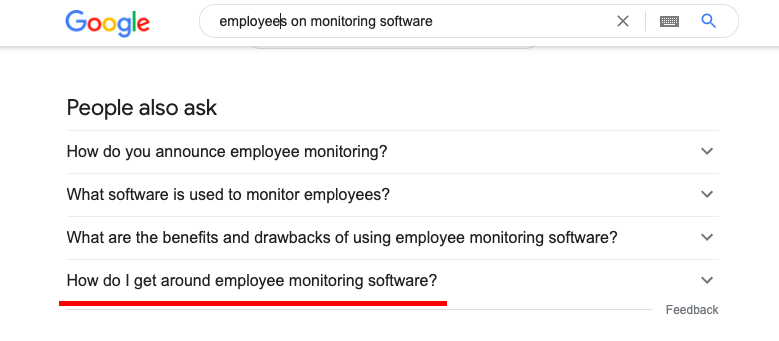 Google's 'people also ask' section is revealing. Help your people do their best work instead of spending their time pushing back on draconian measures.
Speaking to the Guardian, one analyst found himself hauled into a meeting because monitoring software had detected, and flagged, periods where he wasn't inputting information into the company's databases — only one small part of his role.
Okay so if monitoring systems are out, what do you do?
Instead of monitoring the time employees spend online (or worse, logging their keystrokes), monitor outcomes.
This is important so we'll reiterate: emphasise outcomes over hours spent working.
It's the only way to truly know that team members are achieving their goals.
To start creating a culture of trust you need everyone in the organisation, from the top down, to embrace an outcomes-based approach to performance, productivity, and efficiency tracking.
Team members are adults, your managers need to trust them to decide how and when they work best. Armed with that information, leaders can help staff plan collaborative and independent work.
Red flags or problematic employees will become obvious in other ways.
Upskill, upskill, upskill
For most skilled people, including managers, working remotely is new. And like any new skill, it requires practice and training.
One of the best ways to ensure flex works across the board is to upskill your leaders, providing them with the capability required to manage remote teams.
But how? Who could possibly know best practices around something that has only just become common? Well, we know - based on 8 years of experience helping organisations flex at scale.
The Beamible consultancy team is on hand to bring your workplace into the 21st century and help you enact flexible work strategies that use the Beamible platform and our unique proven methodology.
We can cover everything from workload sustainability for managers through to ruthless prioritisation and creative resourcing, plus Beamible workshops and support mean your organisation can hit all the key flex goals, including:
Communicating expectations
Authenticity and empathy
Accountability
As an added bonus, a wealth of research shows that companies that invest in staff training and upskilling are more likely to retain top talent.
Listen to them and their teams
Your managers and team leaders are in the trenches, doing the work and liaising with teams on a regular basis. They know their teams well so it only makes sense to let them make informed decisions independently.
Not only do they know their people's pain points, but they understand their wants and needs, and are aware of the unique skillsets within their teams. Much like leaders should give their people a healthy level of autonomy at work, your leaders need the same.
People want a say in how they work, their career progression, and the company culture. Hear them out. Asking questions is great, but listening carefully and making changes based on feedback is even better, and organisations stand to learn and gain a lot by being receptive.
Of course, human feedback is only one part of the equation. Data makes the world go around and savvy businesses listen to what data is saying. When equipped with the right technology and tools, your leaders can provide the kind of data that drives better decision-making.
Do you have the right data to ensure flex is working well across your hybrid and remote teams? If not, try Beamible for free and see how easy flex can be.
Let's review
Managers need visibility into their dispersed workforce, the right tools for the job, and training and upskilling opportunities so they can do their best work (and empower team members to do theirs).
Companies need to embrace an outcomes-based approach to productivity, provide the right tools and training, listen to their team leaders and their employees, and lead the charge toward a culture of trust.
Beamible can help with all of this and more. Have questions? Get in touch with the team today.